The art of SAXA alias Sascha Lehmann (born 1975) is the "word painting". He writes his paintings, letter by letter. He works mainly with one tool – his words. So he writes poems and thoughts, stories and biographies in the land of poets and philosophers.
LINK BETWEEN ART AND LITERATURE
His "word paintings", written by hand in ink on canvas, visualize the text and create a link between the two fields of literature and visual art in a unique way. In this way, he reinforces and questions contextual connections, themes and statements. In doing so, he always invites his viewers to enter into a dialogue, not only when he reads from his paintings at exhibitions during readings. In addition, handwriting as a means of personal expression is particularly close to his heart. For this reason, he regularly works with schools to get children and young people, as well as teachers and parents, interested in language and handwriting education.
NUMEROUS EXHIBITIONS AT HOME AND ABROAD
SAXA's works are now represented in numerous exhibitions, collections and institutions at home and abroad. For example, his works can be found in museums such as the Karl-Marx-House in Trier, dem August-Macke-House in Bonn and the German Roentgen Museum in Remscheid.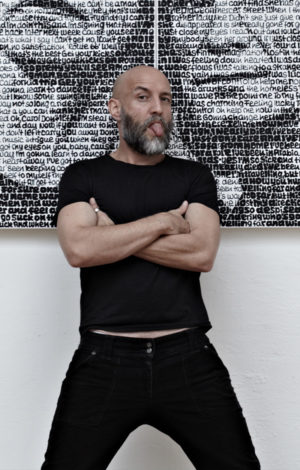 Photo: Monika Nonnenmacher
Words are important tools for me to artistically interact with people and their stories.