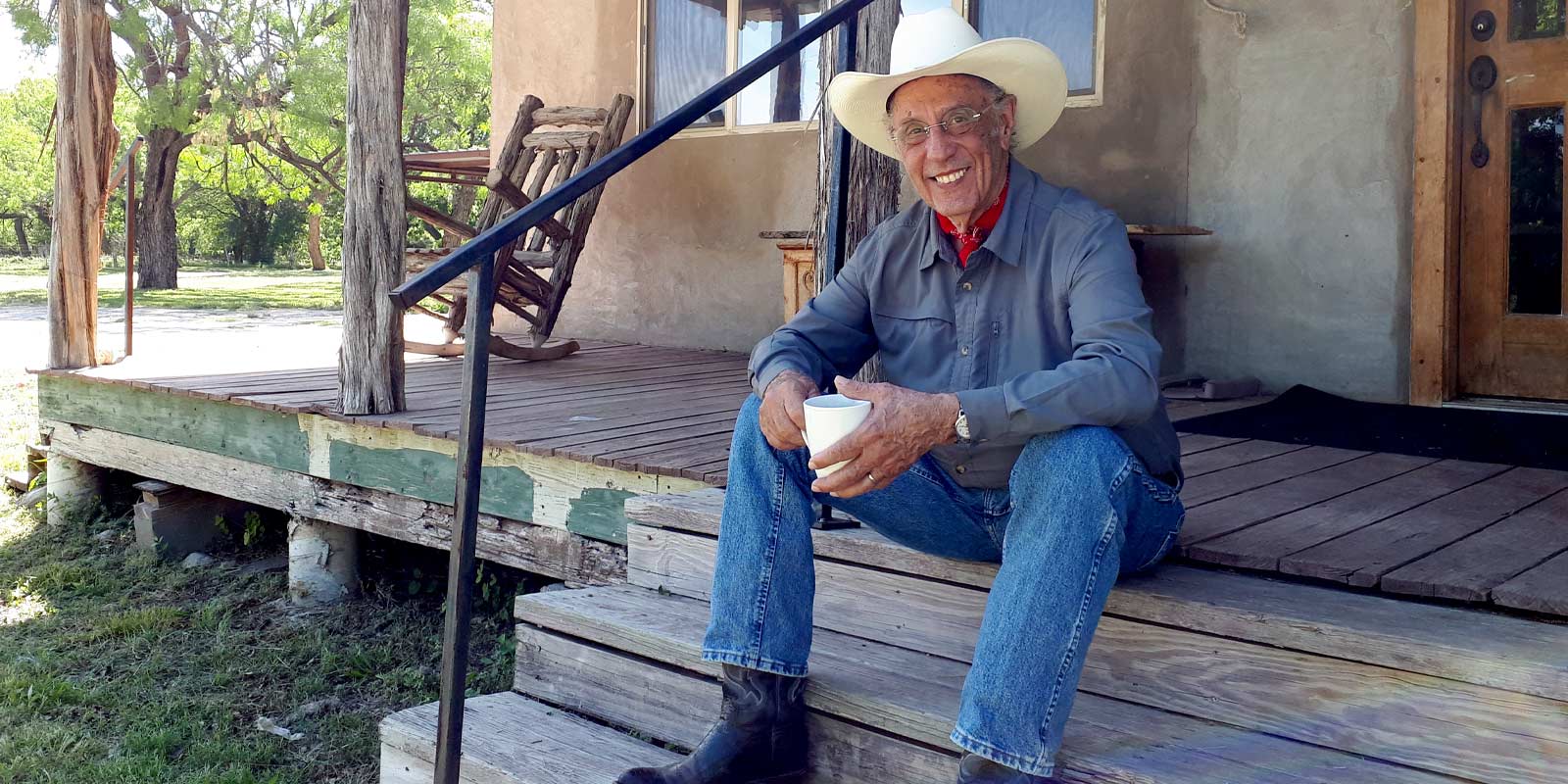 James Francis Gill was born in 1934 in Tahoka, Texas, where he lives and works today. Gill is considered in the literature as an important co-founder of Pop Art and is one of the last living artists of this movement.
FELIX LANDAU
In 1961 and 1962 Gill studied painting at the University of Texas at Austin. As a young artist, he moved to Los Angeles, where he met Felix Landau. Landau was one of the most respected art dealers of his time. He saw in Gill's work, influences from Gustav Klimt, Egon Schiele and Francis Bacon. He was dealing with all these artists at that time.
MUSEUM OF MODERN ART
In December 1962 Landau organized a first solo exhibition for Gill in New York. This resulted in the purchase of two works by the Museum of Modern Art (MoMA). Gill's works were regularly shown at MoMA in the mid-1960s with works by Edward Hopper, Robert Rauschenberg, Pablo Picasso, Heinz Mack, Alexander Calder, Ernst-Ludwig Kirchner, Claes Oldenburg, Jasper Johns, and others. Other museums such as the Whitney Museum of American Art, the Smithsonian American Art Museum, and the Stiftung Ludwig also included Gill in their collections.
Marilyn Monroe
James Gill has a special connection to Marilyn Monroe. Shortly after her death in 1962, the Museum of Modern Art, New York included Gill's painting "Marilyn Triptych" in the permanent collection.  This was James Gill's breakthrough in the art market.
SAO PAULO 9 BIENNIAL
In 1967, Gill is shown at the São Paulo 9 Biennial as an official U.S. participant along with Andy Warhol, Roy Lichtenstein, Robert Indiana and Tom Wesselmann, and others. In 1968, the TIME Magazine commissioned him to design the cover. Hollywood stars such as John Wayne, Tony Curtis, Dennis Hopper and Richard Chamberlain commissioned him to paint their portraits or collected his art. Major national corporations such as the Mead Corporation and Time-Life purchased his paintings for their collections.
RECLUSIVE WORKING
In 1972, Gill left Los Angeles. He wanted to distance himself from fame and glamour. During this time, he continued painting. But he did not present his works to the public until the late 1990s.  During this time, he worked as an architect. In 1997, art historian David McCarthy wrote an article about Gill for the Smithsonian American Art Museum's art magazine. This interview initiated Gill's return to the art market. In 2005, a major retrospective was presented in his current hometown San Angelo, Texas at the Museum of Fine Arts. Other museum exhibitions followed.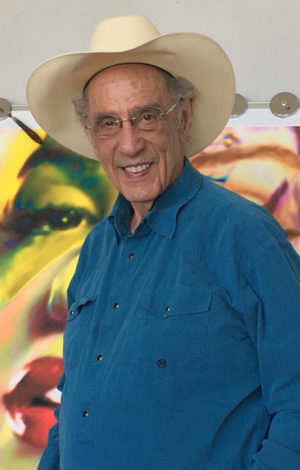 I love to paint. When I wake up in the morning I think: Now I can paint again! Sometimes I think in the evening: So now sleep quickly, then I can start painting again in the morning.
Gill has the most awesome biography you can imagine.
Gill removes the masks of public figures and reveals their blurred anonymity with a powerful impulse on our consciousness.
James Gill's paintings are as current as the morning paper.
There are no rules on the canvas. It can go anywhere. Every painting is a very own, special experience."
1956
1956
After his time in the Navy, Gill worked as an architectural designer.1960-1961 he studied art at the University of Texas, Austin on a painting scholarship.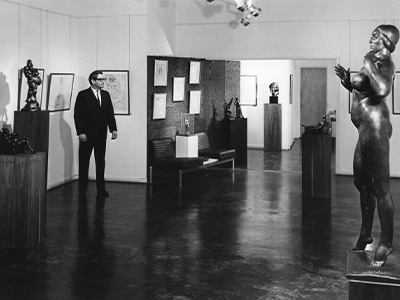 1962
1962
Felix Landau, one of the most influential gallery owners in the USA, contracts James Gill. He organized his first exhibition at the end of 1962.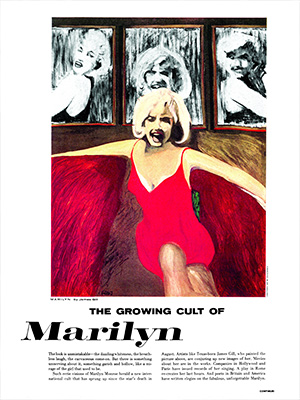 1963
1963
After the death of Marilyn Monroe, "Life Magazine" prints part of the Marilyn Triptych. Already in 1962 the work was purchased by the Museum of Modern Art, New York. It is still part of the museum's permanent collection.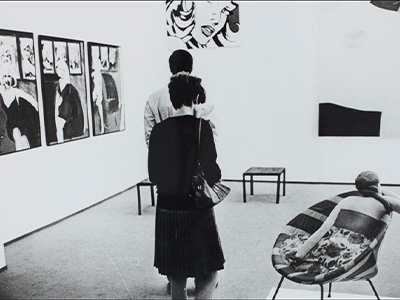 1967
1967
The Marylin Triptych by James Francis Gill was shown at the São Paulo 9 Biennale in 1967, next to works of Roy Lichtenstein and Tom Wesselmann.
1968
1968
James Gill was commissioned by the publisher of TIME magazine to do a painting for the front page. The work shows the escape of Alexander Solzhenitsyn from Russia. Later it was purchased by the National Portrait Gallery, Washington D.C.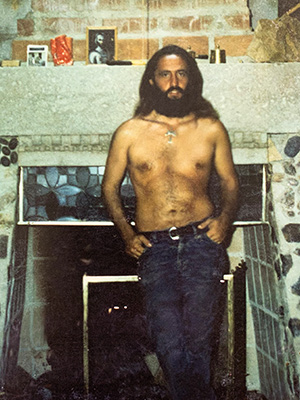 1972
1972
In 1972 James Gill went into a self-imposed exile to develop his artistic expression beyond the boundaries of the material world.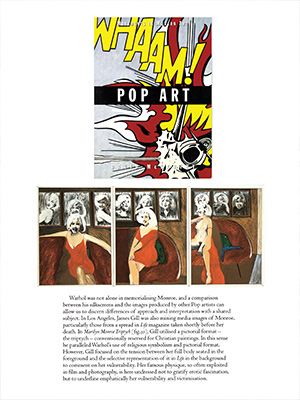 1997
1997
Art historian David McCarthy from the Smithsonian Art Institute contacts James Gill. This contact marks the rediscovery of James Francis Gill in the art world.
2005
2005
The Museum of Fine Arts, San Angelo, Texas is showing a retrospective of Gill's oeuvre in his hometown.
2012
2012
Ted Bauer takes over his management. He organizes museum and gallery exhibitions for Gill worldwide.
*
*
James Francis Gill
currently lives in Texas