Andrei Krioukov was born in Moscow/RUS in 1959. Krioukov completed his studies at the Moscow Art College, focusing on painting and teaching art. His following studies at the Moscow State Art College, he graduated in 1987 as a graphic designer. Since 2003 he is the director of the School of Fine Arts and Design (Berlin).
ART OF TODAY FOR EVER
According to Krioukov, the world itself and our environment create new facets every day. He processes these impressions artistically and records them. So he puts his artistic focus on everyday objects and transforms them into a still life that lives.
KRIOUKOV'S "ONE-WAY REALISM"
Krioukov's works show a close connection between art and real life.  The concept of one-way realism, becomes visible in the realization. Through his art, objects of everyday life become a mirror for the viewer, a call to self-reflection on one's own consumer behavior.
HIS OWN STYLE
In addition to his characteristic oil and acrylic paintings, Krioukov has developed his own unique style of creating etchings. For example, he uses the Coke can as a printing plate, by placing an oil-based mixture directly on the can. With the help of a cylinder printing press, the ink is printed directly from the can to the handmade paper.
REPRESENTED IN MANY COLLECTIONS
His works are in private and public collections in Russia, USA, Germany, Netherlands, Spain and Greece. Most notable is his inclusion in the collection of the Russian Academy of Arts, Moscow.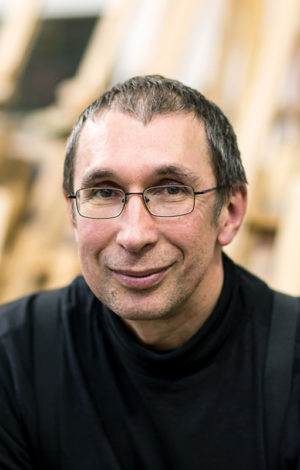 I try to express my fascination of life in my paintings and that' s beautiful, colorful and fast.
My art is for today - and for eternity.
Andrei Krioukov is in the first line of painters in Germany.