Dan Pyle was born in Wolf Point, Montana in 1954. He lives and work currently in Palm Springs, California.
ENTHUSIASM FOR THE DETAIL
Dan Pyle's works are extremely detailed, so much so that they are often assumed to be photographs at first moment. The anonymity his art reflects is intended. He knows how to use shadows and contrasts in his drawings. These make his figures and objects look alive.
AUTHENTIC AND EXPRESSIVE
There are many artists who create impressive works with pencil or charcoal. But Pyle's drawings are outstanding in many ways. At any time, his special style and technique can be identified. At the same time, his variety of motifs is limitless. On the one hand, his art focuses on the human body, which he, as a former ballet dancer, is able to portray authentically and expressively with its muscles, forms and movements. On the other hand, he brings everyday objects and sceneries to life with expressive reflections and shadows.
PHOTOGRAPHY
Dan Pyle walks through life with open eyes. Everywhere he discovers new motifs. In an excessive process, he selects the perfect photographs as the basis for his charcoal drawings. Each work allows space for interpretation and imagination. For human bodies, he works mainly with models. In his artworks, often only a part of the body or the person can be seen.
ANIMAL MOTIFS WITH CHARACTER
His latest works include numerous animal motifs. Many of these works were created on the basis of a safari in Africa. These experiences are reflected in Pyle's charcoal drawings. He gives the wild animals a very unique character. The viewer wonders in what situation the animal might be in.
NUMEROUS PRIZES AND AWARDS
Dan Pyle regularly receives prizes and awards for his drawings, such as the 'American Art Awards'. In 2013, the triptych 'In Pursuit of Freedom' won first place in the Charcoal/Pencil category. In addition, his work has already been honored in numerous art magazines and books.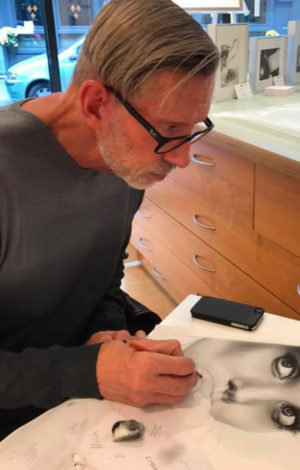 Dan Pyle - The master of light and shadow