Jonty Hurwitz is an artist and engineer. He was born in Johannesburg, South Africa, and spent his early life working in small hotels in provincial towns in South Africa. He studied at the University of Witwatersrand in Johannesburg and worked at the University of Cape Town. After graduating, he traveled to India where he studied yoga and wood carving. Later on he moved to London, where he spent many years in the world of technology, developing algorithms for financial risk. Hurwitz began making sculptures in 2009 and now creates science-inspired artwork and anamorphic sculptures.
He is known for the smallest human form ever created in sculpture form using nanotechnology. The color, texture and material compositions of his works are not separate units; their symbiotic relationship is integral to his attempt to understand them as a whole.
Hurwitz is internationally recognized for his groundbreaking work in merging art and science. His work has been widely disseminated in both academia and the media. His art has appeared in Forbes, The Financial Times, The Guardian, The Huffington Post, and has been discussed on Arte, CNN, and the BBC.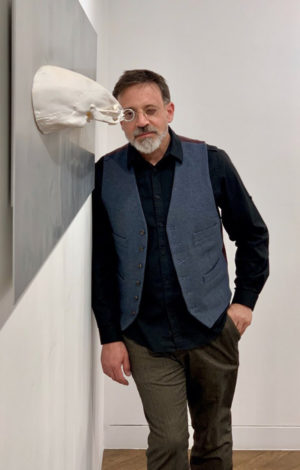 The smallest human sculpture in the world.
Finding that line between art and science is the underlying motivator in my art life.
The glue between science and art is emotion.